Organizations
If you are interested in joining an existing Auxilliary Group and/or Christian Education Program or you desire to be part of a future Church Organization, please download and complete the documents below:
Adult Registration Form (ages 18+)
Youth Registration Form (ages 8-17)
Please return or mail your form to St. Sava.
Drina Folklore Group
Head Instructor: Aleksandra Radojevic
Contact her for information at 206 – 236 0878
Members Coming Soon!
History
St. Sava's folklore tradition started at the present Issaquah site shortly after the building was purchased in December of 1991. Cheryl Spasojevic was the very first kolo instructor and choreographer. Cheryl had been interested in Serbian music and dancing for many years and had extensive knowledge of both. The group mainly danced at church events, enriching the programs on Vidov Dan and St. Sava.
Mike Jankovich took over as instructor in the fall of 1992. Mike taught many of our young people kolo steps and lively dances, which the group performed at church events. Mike was very active at the church but managed to find the time to teach kolo.
In 1993 Vesna Radojevic taught dances she had learned as a dancer in the Morava folklore group at St. George in San Diego. The group learned intricate dances they performed at church functions at St. Sava and in our Serbian church in Vancouver.
Mike again took over teaching for a time, until the fall of 2003, when Mary Jane Vujovic started a class for our tiniest dancers; Alexandra Radojevic taught the children up to the teen years and Vesna Radojevic returned to teach a new group of teenagers. The teens chose the name Drina for their group and began learning suites of kolo dances. Father Ilija Balach was instrumental in finding beautiful Serbian costumes for the dancers. The dancers performed at our church, the University of Washington Slavic Fest, Serbian churches in Vancouver, Portland, Butte and San Diego. The Drina folklore group participants are learning new suites at the present time and looking forward to more trips to other parishes to dance and make lasting friendships with other dancers and parishioners.
Compiled by Alexandra Radojevic
St. Sava Choir History
The church choir started in the winter of 2000 under the direction of Dan Cekarmis. Rudy and Betty Marich gave the choir a boost by donating the keyboard for choir practice. In 2001 Vjera Melton took over the duties as choir director. Since its inception the choir has learned the entire responses of the Liturgy from the first to the last Amin. The choir has added several variations of the antiphons, communion songs, Lord's Prayer and hymns to the Theotokos (Irmos) and as well as other songs to the choir books. In addition the choir has learned the Sunday Resurrection Troparions, Kontakions, Prokeimenons, Glorys and Alleluias from the Serbian Book of Eight Tones. The choir has started to learn secular songs as well. Our hopes are that sometime in the future we will be able to join with other church choirs in the Serbian Singing Federation.
Parishioners who have song with the choir during the past five plus years are
Andreja Balach
PopadijaCarol Balach
Dan Cekarmis
Gordana Cekarmis
Danijela Djakovic
Georgiana Gavrilovich
Cathy Jankovich
Neda Kokeza
Bojana Marusic
Biljana Marusic
Jonna Melton
Vjera Melton
Popadija Milica Popovich
Drasko Raco
Margerie Radford
Barbara Royal
Alex Samsanov
heryl Spasojevich
Rade Spasojevich
Dejan Subotic
Circle of Serbian Sisters History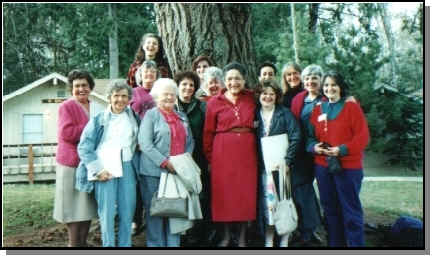 The first organizational meeting of the women of St. Sava was held on January 12, 1992 with the express purpose of establishing a Circle of Serbian Sisters. Twenty-three Sisters were in attendance. The meeting was called to order by Helena Shelly, who explained the purpose of the Sisters organization was to help support our church. A copy of the By-Laws of the Federation of Circle Serbian Sisters of the Western Diocese was distributed to all of the ladies present for review with the intention of preparing By-Laws for this organization. In addition, nominations for officers were presented and approved: Bisenija Kisovec, President; Ljubica Remi, Vice President; Helen Penovich, Recording Secretary; Zorka Jaksich,Corresponding Secretary; Jessica Larsen, Treasurer. In a subsequent meeting the St. Mary Magdalene, August 4, was approved as our patron saint and Zorka Jakcich as our first Kuma.
K.S.S. Accomplishments:
Preparation and presentation of By-Laws to the Bishop Began the Bookstore
Feeding the Homeless in Seattle – one Thursday each month Ladies Lenten Retreat at Raft Island
Booth at Issaquah Salmon Days Nursery for babies and young children
Established Sunshine Committee Children's Camp
Furnished / Established Sunday school class rooms Donated funds for the kitchen renovation
Began the Bookstore
Ladies Lenten Retreat at Raft Island
Nursery for babies and young children
Children's Camp
Donated funds for the kitchen renovation
Assist with the cleanup of the Serbian Cemetery in Roslyn, WA
Assisted Church Board with catered meals at a large local church
Purchased commercial refrigerator, stainless steel worktable, vacuum, convection oven
Fund Raisers- Raffles, Dinners – Picnics, Bake Sales, Garage & Rummage Sales, Craft Sales and the Auction
The sisters each donate time and materials for bake sales and our Sunday lunches. They plan, clean, decorate, cook, bake, serve and cleanup for every special event sponsored by or supported by the church.   Special remembrance to our departed sisters who were instrumental in establishing our group, teaching and supporting us in all of our endeavors: Baba Katja, Mildred Schrensky, Stephanija Antovich, Angie Mladenovich, Lijubica (Vi) Popovich
The new KSS Board officers are:
No President
Michelle Hrle, Vice-President
No Secretary
Vjera Melton, Treasurer
Contact Michelle Hrle for information at 425 831 5684.
Sports
A soccer team for ages 18 and above is being formally organized. Anyone interested should fill out an adult registration form and bring it to Church. At the recent Serbian Days celebration at St. Sava Church in Vancouver, B.C., Canada, our "team" won first place. Come and see the trophy at the Church. Congratulations!